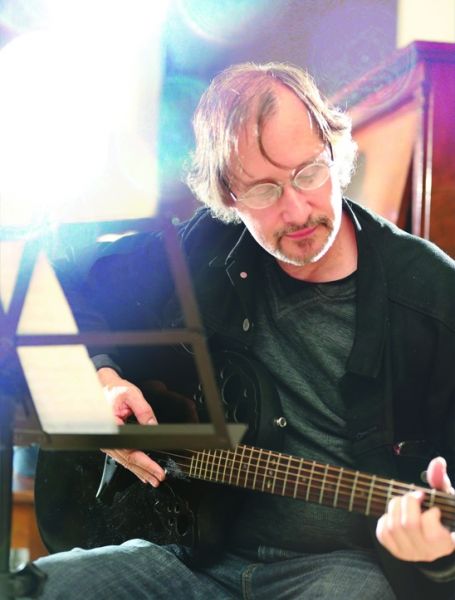 Vancouver singer-songwriter and multi-instrumentalist, Cary Heuchert, was originally from Saskatoon, Canada, and developed an interest in the creative arts at a young age, notably drawing. 
His love of music began in the late-1960s, playing his first instrument, the accordion, in 1969. Although it wasn't his first choice of instrument, it gave him some musical theory, which developed an interest in composition, along with a fascination of sound and recording. His real musical education would soon develop further in 1978, during high school, learning classical and fingerstyle techniques on acoustic guitar, and then later with the purchase of an electric guitar. 
In summer 1980, after acquiring an open reel multi-track tape machine, he started to record and collaborate with other local musicians, composing and improvising with rock, blues, jazz, folk styles, experimenting with sounds via tape loops (musique concrète), and Moog synthesizer. 
He taught himself the electric bass in early 1981, after buying a Gibson EB-0 bass guitar and during this time, recorded an early version of his experimental composition, "Voices", using three tape machines in-sync, layered with six electric guitars and three bass guitars. 
In 1983, he relocated to Vancouver, on Canada's west coast, to study photography and film at Emily Carr College of Art. During that year he wrote a classical guitar composition, "Daybreak", in which an early version was recorded in a professional studio, and used as a soundtrack for his short art film in early 1984, called "The Waterfront". Here is the link to watch: http://youtu.be/Q8kCBO9g7G4
More experimentation with sound techniques and keyboards continued throughout the 1980s and into the 1990's, when the first version of "The Night March" was recorded in 1994, using a newly-acquired Minimoog synthesizer and midi drum machine. 
Zoom forward to summer 2005, and after eleven years working in the professional photography field, he decided on a career change, and relocated to Harbin, in north-eastern China to teach English. He felt renewed creative motivation while living in China, and was inspired there to write more songs including: "Black Dragon River", "Far-Out East Mountain Suite", and "Maoershan". 
In summer 2006, he returned to Vancouver, Canada and later in 2009, set-up a home studio, Oddiyo Studios, and started recording and composing new material using electric and acoustic guitars, 12-string and classical guitars, fretless bass, synthesizers, and vocals. 
From December 2009 until January 2011, the song-cycle "Nocturna Parts 1 – 8" was recorded, as well as four other instrumental tracks, including a vocal song, "Sundown Morning". His first album, "Nocturna and Other Stories", an experimental and mostly guitar-based instrumental album, was released on 5 May 2012.
The music was also featured in Cary's short experimental film, "Sunwheel" (1984) with the music of "Nocturna Part 1 - Introduction" as the soundtrack. Here is the link to watch: http://youtu.be/0-ONp4zUeME
The next album, "Blue Rain", was more involved, and took nearly one year to complete. A total of eighteen instruments were used during these sessions, including: drums, mandolin, multi-oud, and various keyboards. The results, recorded from November 2013 until September 2014, were of a more personal vision, and diverse styles, including nine vocal songs, and one instrumental track, "Maoershan", which featured Mellotron flute and strings. 
The second album, "Blue Rain" was finally released on 29 November 2014, and the CD version followed on 19 December 2014.
"Mirror of Dreams / Nightbreak", a new single, was released 7 October 2017, and is also featured as a bonus track on the 2017 Special Edition reissue/remaster CD of "Blue Rain", including new album liner notes written by renowned music journalist, Robert Silverstein, editor/founder of mwe3.com  
Also, during 2017, Cary would release another single, this time, a cover of Pink Floyd's psychedelic classic, "Cymbaline".
Towards the end of the year, Cary met local Vancouver drummer, Grant Ball. In January 2019, after one year of rehearsing together, Cary started the "Hourglass" recording sessions. This new progressive folk-rock/psychedelic rock album of ten songs, which over the course of two years, would include a variety of guest musicians, including Tony Pagliuca, formerly of the legendary Italian progressive rock band, Le Orme, on piano ("You Are the World to Me"), fellow Saskatonian and Northern Pikes member, Jay Semko, on harmony vocals ("Forever and So Far"), noted Canadian jazz bassist, Miles Hill, on 5-string fretless bass ("When Fortune Smiles"), and local Vancouver bassist, Collin Wade on three songs ("Forever and So Far", "Together", and "I Don't Want to Say Goodnight to You").
Cary Heuchert's third album, "Hourglass" was released on 8 April 2021.
In March 2022, Eyes Like Saucers, a prog/space/psychedelic rock band from Vancouver, Canada is formed. The line-up includes Cary Heuchert on vocals, guitars, flute, synthesizer, and Mellotron; Collin Wade - vocals, bass, and guitars; Grant Ball - drums and percussion. Material from Cary's first three solo albums ("Nocturna and Other Stories", "Blue Rain" and "Hourglass") is being rehearsed, as well as new songs from both Cary ("Oceanus") and Collin ("Spirals of Time"). A plan for live gigs is in the works for Spring/Summer 2022. Stay tuned for updates.